Fertilizers - Flying Higher?
March 31, 2008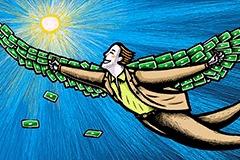 The Fertilizer market has been on quite a run. Industry graybeards are possibly even more astounded by the market's strength than those who are enjoying their first run with the bulls. As usual, nitrogen took the lead, but Phosphates and Potash are now way out in front. The pace has been frenetic and good profitability has flowed through the entire supply chain.
High Muckamucks have had big paydays. Even those of us further down the food chain have enjoyed a few crumbs falling from the table and a respite from the daily challenges of life in a mature and consolidating (yet critical) industry.
On reflection, survival in this business seems to require a contrarian bias. We therefore keep reminding ourselves that back in 1374 Chaucer reportedly observed that "There is an end to everything, to good things as well."
For clues as to why we are currently contemplating these bearish thoughts, for starters we suggest reading an article in today's Baron's entitled Commodities: Who's Behind the Boom? In essence we are told that USD 250 Billion in "naïve" speculative cash has leapt onto the long side of the commodities game in the last while, fleeing the equity (and debt) markets. The impact has been profound. For instance an estimated 83.6 % of this year's wheat crop is owned by speculators. The article outlines a situation best summarized by a quote contained therein, "…nonsense on stilts." Those who attended the second breakfast lecture at the TFI's winter meeting heard similar views. One could argue therefore that commodity crop prices are heading for an adjustment, which unfortunately could also have an impact on fertilizer fundamentals.
In a related development last week, ConAgra announced that it was spinning off its trading division for a healthy dowry of USD 2.1 billion to Ospraie Management LLC. Pronounced osprey (as in the raptor), Ospraie is run by Dwight Anderson who Bloomberg crowns as "The king of commodity hedge funds". In this context it is important to note that unlike the commodity index funds and the commodity pools, hedge funds are also able predators on the short side of the market. So with the "King" now seated at the table, one has to ask…, when will the feast begin?
In the way of a closing comment to those currently enjoying their first run with the bulls, we suggest that you get ready to run faster…