San Antonio 2006
July 27, 2006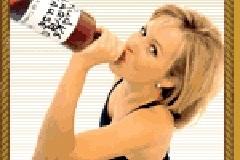 The Southwestern Fertilizer Conference (22-26 July) exceeded expectations again this year. Location, location is not just the mantra of real estate gurus. San Antonio works for this convention, as does its summer location on the agricultural calendar.
The Marriott Rivercenter is a pretty effective no frills property for this "back-to-the-basics" conference, and the Riverwalk beckons out the back door. We only spent about an hour on the 'Walk" this time, having a coffee with an old friend as the convention wound down on Tuesday night… listening to a mariachi band cranking up as the afternoon cooled.
We went on the road for the rest of our mealtime forays. Rudy's is always a favorite. It is a hike north into what used to be scrubby hill country. Now it is surrounded by gated communities and golf courses. But Rudy's hasn't changed. Why go to Morton's or some other glorified McDonalds and fork over $100 per head for a feed, when you can get all of the barbeque, brisket and beer that you can scarf down for twenty bucks... max! The gated communities are worth a comment as well. San Antonio continues to thrive as does the rest of Texas. Northern and "Left Coast" elitist sneer at Texas at their own risk; this is a happening place.
While the mood on the convention floor was buoyant, this was not market driven. The market in fact for most products was flat, with the possible exception of UAN 32 which had some play in the Midwest. This activity is trader driven. Several have large prebuy river positions and are now stirring the pot.
Other news in the pit was from offshore, as "the trade" reversed course and covered some significant short Yuzhny urea positions. That said, we expect North American nitrogen prices in general to be under pressure off and on at least until spring.
Long term we still see some profit left in this business, but there will be big potholes along the road. For a summary of both, we suggest taking a look at Potash Corp's latest quarterly report. Try to ignore the spin for the investment community; instead, focus on the impact of global forces on even North America's largest fertilizer producer.