Southwest Conference 2005
July 28, 2005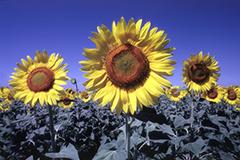 This is now "the conference in North America, against which all others must benchmark. A critical mass of buyers like this event's timing, its simplicity its general affordability; and in the process they attract a swarm of suppliers, like bees to honey. The cocktail parties warm this writer's harden heart, eliciting visions of the excitement of past summer meetings, except we are at the Marriott River Center, not the Greenbrier...
Every convention has a takeaway message. This year's post spring season summary seems to be that volumes were down, revenues were up, and profitability was respectable for most in the fertilizer supply chain. Producers were in fact very profitable. In step with the cadence of capitalism, CF Industries' imminent IPO will let their stakeholders share in the benefits of their recent strategy to operate like a real business. Rumor has it that next Morgan Stanley is going to take the Brooklyn Bridge public.
Humor aside, we did note several important events at the convention, the first is the re-emergence of the Railroad Robber Barons after a century of dormancy. It seemed that virtually everyone at the conference had a "more cost, less service railroad story.
The other development that we noticed was some aggressive buying by "the trade of forward Mississippi River UAN positions. In our view, nitrogen prices are pretty full. Although we expect N prices to trade in this range through next spring, the downside potential seems to significantly exceed the upside.
We have to again congratulate the city fathers (and mothers) of San Antonio. It takes tremendous marking skills to turn a storm ditch into a world famous tourist attraction...in the words of Ernie Pyle "The American Venice". In a Disneyesque fashion, we watched scows loaded with tourists lumber along the canals from early morning to well past dusk. Helpful guides pointed out San Antonio's cultural attractions along the way...Here is Dick's Last Resort on the left, and up ahead you will see Durty Nelly's.
These guys should have been in fertilizer sales...