California's Drought: Cut and Dried
April 7, 2015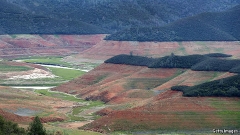 "CALIFORNIA is no longer taking a laid-back approach to its water crisis. This week, for the first time in its history, the Golden State imposed mandatory restrictions on water use. The measure follows four years of severe drought and its lowest ever recorded winter snowpack. On Wednesday Governor Jerry Brown issued an executive order imposing a 25% reduction on the state's 400 local water supply agencies over the coming year. Those local agencies serve 90% of California residents. They will be responsible for figuring out how to cut back actual water usage, but it is clear that communities that have successfully reduced water usage in recent years—such as Los Angeles County—will have less to do than cities that have been more relaxed about abating water consumption.
The governor's order focused primarily on urban water use, even though California's $45 billion agricultural industry accounts for the bulk of the state's water consumption: roughly 80% (after setting aside the half of California water that is reserved for environmental uses). Some reckon the governor is giving agricultural interests a free pass; critics point out that farmers have replaced seasonal crops with water-guzzlers like almonds, walnuts, and grapes, causing their water needs to shoot upward. Meanwhile, urban water use in California has held relatively steady over the past two decades, despite massive population growth. That achievement reflects pricing incentives and water-saving technologies like low-flow toilets. Remarkably, per-capita water use in California has declined significantly over the past two decades, from 232 gallons per a day in 1990 to 178 gallons per day in 2010.
But for Mr Brown, and those worried about the long-term effects of the drought, even those declines may prove insufficient. Last year the governor called for all Californians to cut their water use by 20%; residents fell short of that mark in every month except December. "Frankly, I wish he had issued this order a year ago," says Madelyn Glickfeld, director of the UCLA Water Resources Group. "Things are so much more alarming now." Ms. Glickfeld says she believes that changing the way Californians think about landscaping—and putting an end to the golf courses and lush gardens that characterise so much of the state's identity—will be key to solving the state's water crisis. That is no doubt part of Mr Brown's plan, which imposes restrictions on golf courses and cemeteries and requires the use of non-potable water on median dividers. It also calls for the state to replace 50m feet (20.2m hectares) of turf with drought-friendly planting."
Read more from The Economist.